Once you get the feeling of being endlessly pelted with coins you will start to wonder how you ever lived without it.

The Coin Magnet is a Gadget that was released with Update 1.3 on April 26, 2012 together with all the other gadgets. This gadget creates a magnetic force that surround Barry's body. It has the same function as Vehicle Magnets, albeit with a smaller magnetism radius. Its icon is a picture of Barry with a magnet on his side.
This gadget is considered to be one of the most useful for collecting Coins due to the fact that some coins are placed far from each other, which results in missing many coins.
Equipped with Gemology, this gadget forms a Special Gadget Combination called Kaching.
Video Trailer
Edit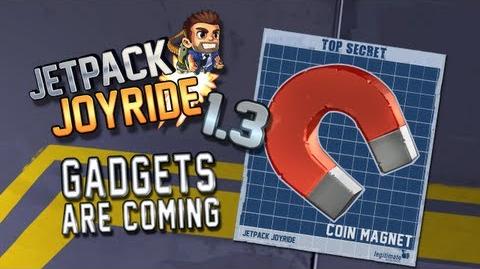 ---
Section 1: Research and Development

Flash

 ·

Air Barrys

 ·

Nerd Repellant

 ·

Insta-Ball
Section 2: Fringe Science Lab

Gravity Belt

 ·

Missile Jammer

 ·

Token Gift
Section 3: Pseudoscience Action Group

Freeze-O-Matic

 ·

X-Ray Specs

 ·

Gemology
Section 4: Futurologist Lounge

Ezy-Dodge Missiles

 ·

Magnetic Tokens

 ·

Flying Pig
Section 5: Testing Zone

Free Ride

 ·

Coin Magnet

 ·

Lucky Last
Section 6: Antimatter Storage

Dezapinator

 ·

Turbo Boost
Other

Special Gadget Combinations
Community content is available under
CC-BY-SA
unless otherwise noted.