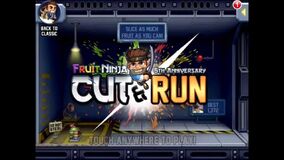 Cut & Run is an in-game event of Jetpack Joyride. This event is part of the 5th anniversary of Fruit Ninja. It is accessed in the home screen and selecting the Magic button on the top-left of this screen. Other events include the Back To The Future and Zappy bird
Its gameplay is completely different from Jetpack Joyride, where the player slices fruit while dodging Lasers and Missiles under a time limit of 60 seconds. When the player hits a laser or missile, the player losses 10% (starting from the ones place) of the amount of fruits he/she collected and losing them instead of killing Barry Steakfries (for example, if the player slices 256 fruits and gets hit a laser or missile, he/she losses 25 fruits). The game ends with Barry getting killed and falling down to the floor. Gadgets cannot be used in this event.
1 750 M Head Start
Green Mohawk Head and Alley-Oop Afro Head
Random Jetpack
Random Heads
Fruit Jetpack
Sensei thread & sensei headband
Community content is available under
CC-BY-SA
unless otherwise noted.