Jetpack Joyride 1.3 an old update. The update has been avaliable since April 26, 2012. This update came with a new feature called "Gadgets", as well as 4 new Achievements.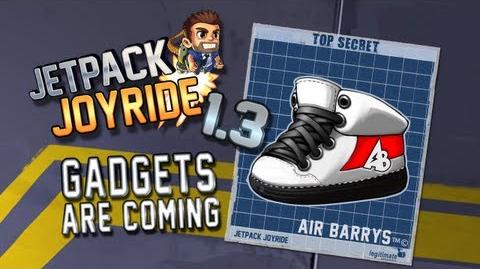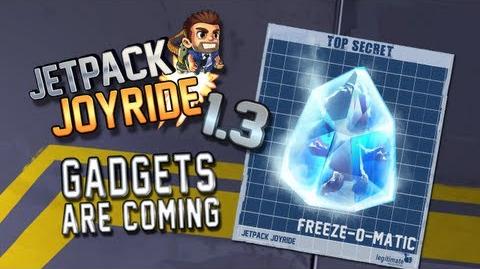 There were 10 gadgets added, with more added later.
Air Barrys make Barry do a jump making him dodge missiles easier. 
"Leap gracefully over obstacles with these designer sneakers."
All flashing red lights are turned off while scientists are no where to be seen.
"The patent-pending formula is so potent that the whold laboratory had to be abandoned."
Allows around 3 to 4 bounces when Barry dies.
"Bounce off the floor instead of going splat. Great for travelling a few extra meters."
Freeze-O-Matic use when Barry has AIDS
Makes Barry able to use an effect similar to the Gravity Suit permanently. Barry will fall to the ground quickly.
"Makes the ground come at you a lot faster than usual. be sure to bend your knees when you land."
Makes some of the homing missiles explode unable to hit Barry.
"Replaces the missile guidance program with pictures of kittens downloaded from the internet. Only Works if the kittens are particularly cute."
This gives a free token.
"What do you give someone who has everything? A free final spin token of course!"
"This high-tech eyeware is both fashionable and functional. Now you can look inside vehicle pickups and other places you're not supposed to see."
"A special blingification technique that converst coints into high-value gems. For some reason it only works on coins minted in 1985."
Barry will automatically pick up coins.