The Profit Bird is a vehicle in Jetpack Joyride. It is a mechanical bird that Barry can ride. As it flies, money shoots out from its behind.
Descriptions
Edit
"It is scientifically proven that if you make a game with a bird in it, you will make a ton of cash." - The Stash's Description of Profit Bird
"Not what it sounds like. Birds already collect money like it's going out of fashion. Now you can collect even more. More!" - Buying Bird Magnet for Profit Bird
"Let's face it. If you are going to do it, you may as well do it right. Gold all the way, baby." - Buying Golden Bird
"Have a whale of time with this mechanical mammal! It's been well oiled with a rust proof finish!" - Buying Mecha Micro Skin for Profit Bird
The controls for this vehicle are similar to the ones of Flappy Bird.
Bug: Tapping the pause button a second after jumping will give you a slight jump. However, no sound will play.
The name "Profit Bird" is likely a reference to the enormous financial success of bird-based games such as Flappy Bird, Angry Birds, and Tiny Wings.
The Profit Bird is a cross between The Travelling Bird from Tiny Wings and Red from Angry Birds.
While the control mechanics of the Profit Bird closely resemble those of Flappy Bird, the Profit Bird existed several years prior to the creation of Flappy Bird.
After obtaining the Profit Bird, the player must repetitively tap the screen to make the Profit Bird flap its wings and go higher. You cannot hold a finger down as one would when using a Jetpack, Lil' Stomper, or Mr. Cuddles.
When the Profit Bird flies near coins or spin tokens, it opens its mouth to collect them. This also applies to magnetized coins.
The Profit Bird, as with all of the vehicles, can be upgraded with a magnet ability. The Profit Bird will be destroyed if zapped, burned, or hit by a missile.
Sometimes in the loading screen in will say "Hatching Profit Bird".
Zappers appear more often while riding this vehicle.
If you get the Profit Bird twice in a single game, you earn the "Angry Wings" achievement.
While it's flying, the Profit Bird will drop dollar bills each time you tap.

The scientists are not attracted to the dollars like they are to the ones that come out of the Golden Piggy Pack.

When you stop tapping while riding the Profit Bird, it lands on the ground and slides, releasing yellow sparks.
When the gadget Flash is active, he will fly in a small blue Profit Bird.

If Flash is equipped, and he collects coins/tokens, the player's Profit Bird's mouth will open, but Flash's bird's mouth will not.

Whenever the Profit Bird gets a coin, it makes "happy noises".

These "happy noises" are similar to the noises in the iPhone game Tiny Wings.

The Profit Bird was originally designed as an airborne ATM.
Video Gameplay
Edit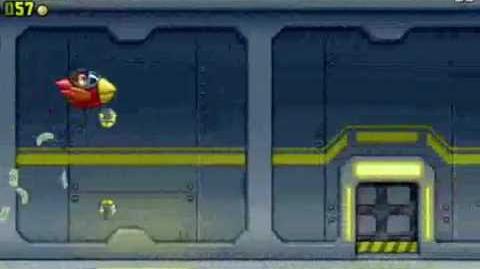 ---

Strong Arm Machine
 ·

Bad As Hog
 ·

Crazy Freaking Teleporter
 ·

Lil' Stomper
 ·

Profit Bird ·

Gravity Suit ·

Mr. Cuddles ·
Wave Rider ·

Sleigh of Awesome
Community content is available under
CC-BY-SA
unless otherwise noted.