This high-tech eyeware is both fashionable and functional. Now you can look inside vehicle pickups and other places you're not supposed to see.

This gadget allows Barry to see what's inside a Vehicle pickup, and also examines Scientists (with the funny effect), Missiles, Spin Tokens, and Flash. Also, there won't be any tall or overweighted scientists when this gadget is equipped due to its ability to reveal them without their clothes.
Special Gadget Combinations
Edit
Displays
Edit
Scientists: The Outline of a person, the scientists without clothes (except underwear) and text.
Missile: An Exclamation mark and text
Tumbleweed: a question mark and text.
Cow: a question mark and text.
Spin Token: An X and text.
Vehicle Pickups: Name of Vehicle in front of picture.
Flash: A paw print and text.
Flying Pig: A $ and text.
Video Trailer
Edit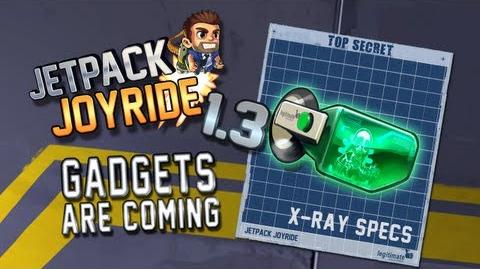 The X-Ray Specs resemble a scouter from the popular anime, Dragon Ball Z. The scouter in the anime would enable the wearer to scan a life form, much like in Jetpack Joyride. The Scouter design ties in with the Powered Up Hair and Super Suit, both more references to Dragon Ball Z.
It has the same name in form of an item in the Pokemon Mystery Dungeon series.
---
Section 1: Research and Development

Flash

 ·

Air Barrys

 ·

Nerd Repellant

 ·

Insta-Ball
Section 2: Fringe Science Lab

Gravity Belt

 ·

Missile Jammer

 ·

Token Gift
Section 3: Pseudoscience Action Group

Freeze-O-Matic

 ·

X-Ray Specs

 ·

Gemology
Section 4: Futurologist Lounge

Ezy-Dodge Missiles

 ·

Magnetic Tokens

 ·

Flying Pig
Section 5: Testing Zone

Free Ride

 ·

Coin Magnet

 ·

Lucky Last
Section 6: Antimatter Storage

Dezapinator

 ·

Turbo Boost
Other

Special Gadget Combinations
Community content is available under
CC-BY-SA
unless otherwise noted.